Roll over image to zoom in
Samsung POWERbot Plus SR20M7070WS Robotic Vacuum Cleaner
VR20M7070WS/SA
40x more suction power*, slim design
Extra slim to get under more hard-to reach places
Wi-Fi Control from your smartphone
Point Cleaning via remote control
E
dge Clean Master gets closer into corners
Visionary Mapping finds the best cleaning path
Fullview Sensor 2.0 avoids obstacles
Intelligent Power Control for varied surfaces
Easy Pass Wheels help get over more rugs and doorframes
Automatic recharge when needed
Magnetic Strip restricts where you don't want it to clean

* Times more suction power than our previous SR10F71UB model
40x more suction power*
Extra Slim Design
Up to 90 mins cleaning time
0.3L Dust Bin Capacity
Powerfully cleans hard-to-reach places
Extra slim, extra powerful
At only 9.7cm high and 28% slimmer**, PowerBot Plus is designed to easily slide underneath furniture while still doing a powerful clean with real suction. Generating real suction power, it sucks up dust and dirt on carpets or underneath furniture to deliver outstanding cleaning results.
**Compared with Samsung POWERbot VR9000.
Less dust & hair clogging up the brush
Self-Cleaning Head
The unique self-cleaning brush helps significantly reduce the amount of dust and hair that gets trapped on the brush's bristles. It collects it in the centre of the brush, so it can easily be sucked up into the dustbin.
Scans the space, detects obstacles
FullView Sensor™ 2.0
An upgraded, high-performance FullView Sensor™ 2.0 scans and detects very narrow or small obstacles across a wide area. In addition, it senses room corners and cleans them three times.
Clean easily along wall edges
Edge Clean Master™
Edge Clean Master™ makes cleaning along wall edges and corners easy with the Auto Shutter bristle brush that drops down when it touches a wall. It creates a barrier to help collect more dust and suck it away!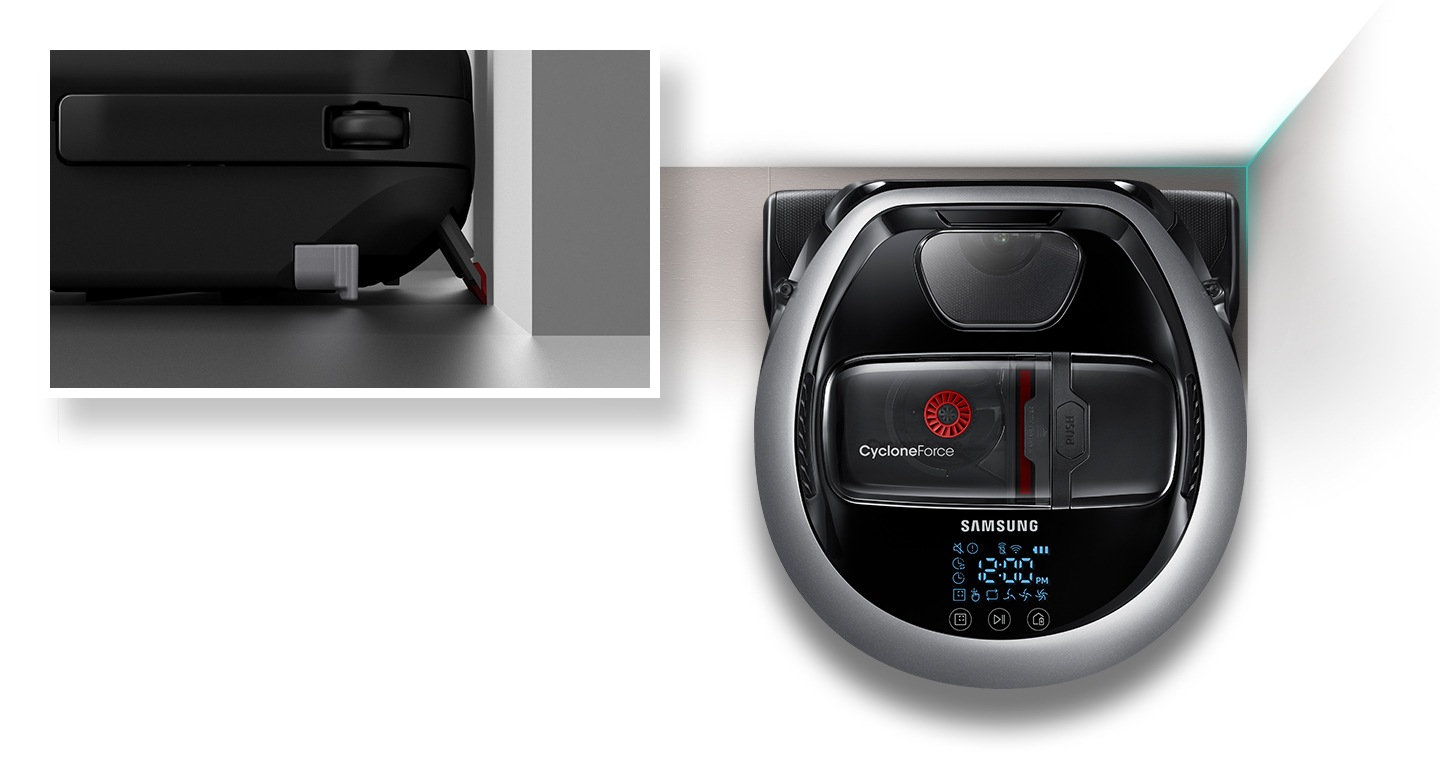 Optimum power on multi-surfaces
An Intelligent Power Control detects the type of surface and generates the appropriate suction power, generating more suction power over carpets and rugs to work on embedded dust.
Minimises loss of suction power with CycloneForce
CycloneForce helps minimise loss of suction power. It captures dust and helps prevent the filter from clogging by extracting dirt and debris from the air into an outer chamber.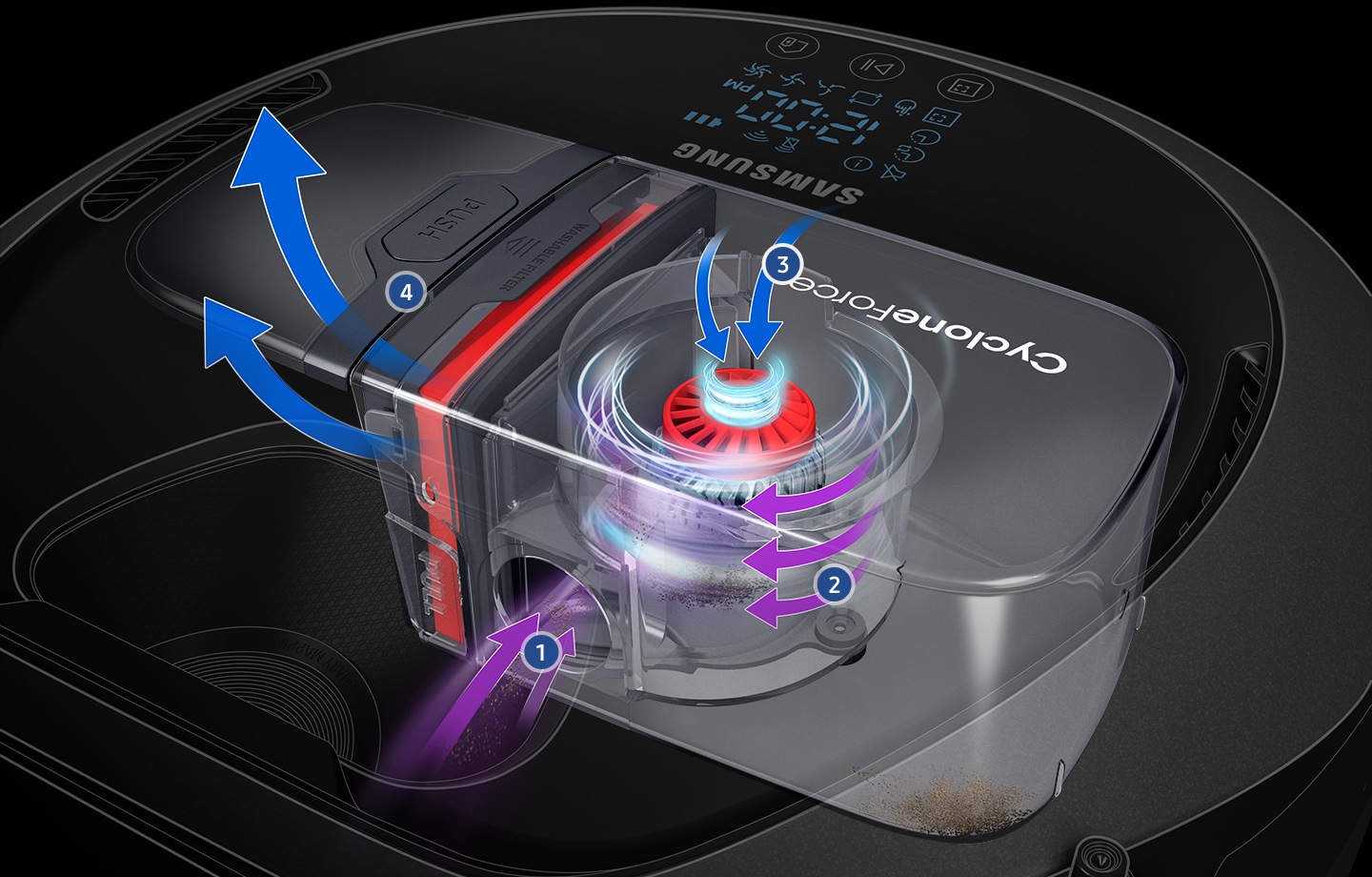 Remote Spot Clean
Remote Control Point Clean™
Point Clean™ gives you the option for on-demand cleaning. When you need spot cleaning, simply point the remote's light beam at a particular area and the PowerBot Pro will follow it, cleaning as it goes.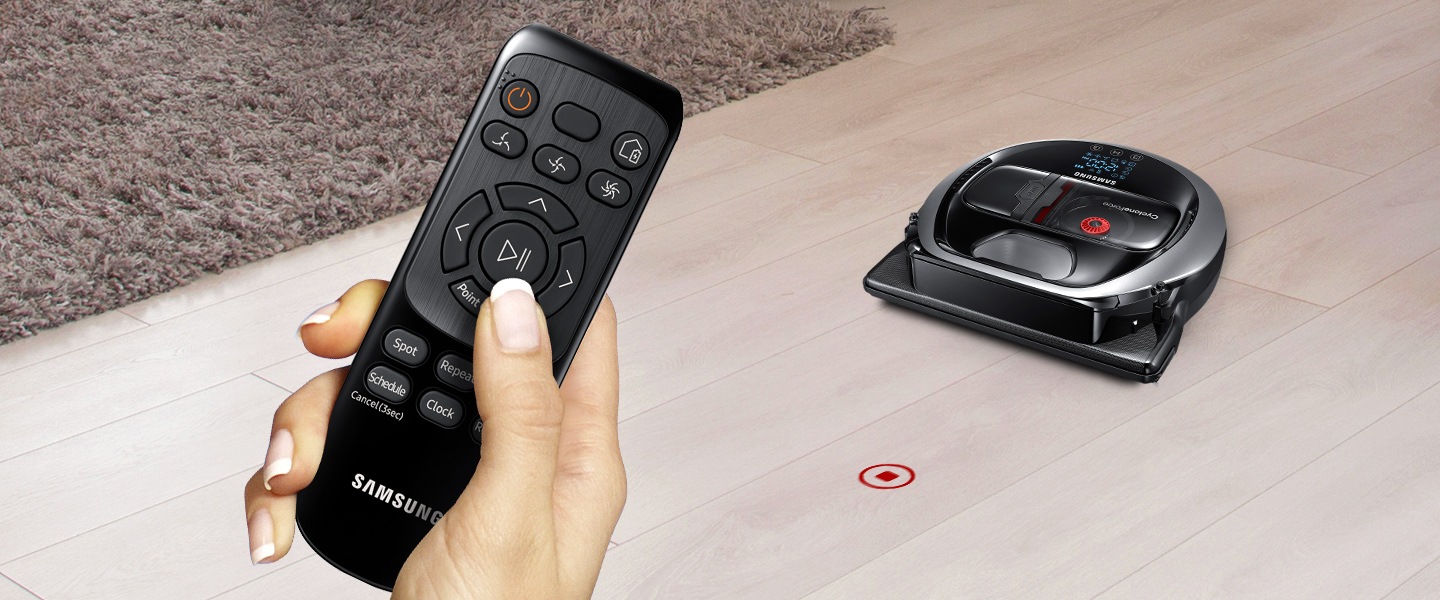 Wi-Fi Connectivity
Remote control the machine using a smartphone App on a compatible device*. With a simple touch you can start or stop the machine, schedule cleaning times and check the cleaning history when you're away from home.
*Samsung Smart Home apps are compatible with selected Samsung Galaxy S and Samsung Note series devices. Supports Android™ 4.0 (since Galaxy S2) or higher and iOS7 or higher. Mobile app must be downloaded. Internet connection required. Data charges may apply.
Control it Remotely
Wi-Fi control lets you remotely control the machine using a smartphone App*. POWERbot also works with the Google Assistant** With this virtual personal assistant you can use your voice to start, stop, and charge your robot vacuum.
*Available on compatible Apple and Android phones. Requires Samsung account, app download & wi-fi connection. **Google Assistant compatible with POWERbot VR7000 models. Requires compatible phone, Samsung account, app download & wi-fi connection.
Maps & finds the best cleaning path
Visionary Mapping™
A Visionary Mapping™ Plus System finds the optimal route for fast-track cleaning. Using individual high performance smart sensors and an on-board digital camera it determines the most efficient cleaning path by creating a map of your home.
Large Wheels for easy manouverability
Easy Pass™
Upgraded Easy Pass™ wheels help the unit easily overcome a range of obstacles, like door frames, so it will keep working while you're out. Its body is also now 15mm off the ground, so it's much less likely to get caught on anything than our previous models.
Smart Charge
An Automatic Charge function means that when the battery runs low it automatically moves to the docking station to recharge itself. Once it's fully recharged it goes back to its last location and resumes cleaning.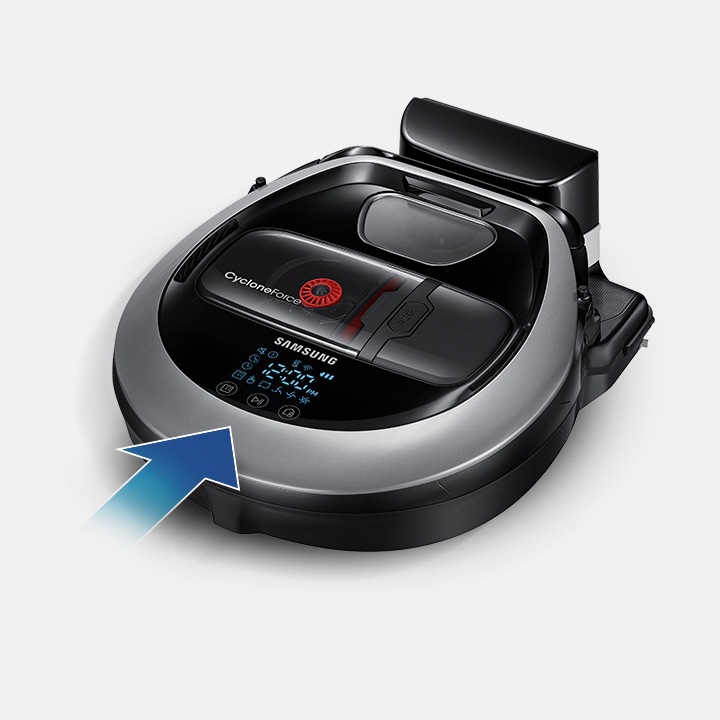 Set restricted areas
Virtual Guard™*
Protect your valuable furniture, pet beds or any areas from being damaged or disturbed with Virtual Guard™. Simply activate it with a button push and set the restricted spaces or create a specific cleaning sequence.
* Available on VR20M705 and VR20M707 series.
Performance

cleaning speed(m/sec)

0.32 m/sec

Cleaning Time

30/60/90 min

Recharging Time

160 min

Noise Level

77 dBA

Battery
General Information

Cleaning Width

288 mm

Secondary colour

Satin Titanium

Button Type

Touch

Auto-Docking

Yes

Remote Control

Yes
Accessory

Accessory

Magnetic Tape, Extra Filter
If your product is in stock it will be shipped same/next day where possible.
If there are any problems one of our customer service agents will contact you immediately.
Purchases inside Australia under $99.00 incur a flat $9.95 postage cost.
All purchases over $99.00 are free shipping.
New Zealand customers incur a flat $14.95 shipping fee
Free Shipping
Shop with Confidence
Not sure where to start?